To upload your documents for verification, please follow the steps below:
Step 1 – Log in to your RummyCircle account and click on 'My Account'
Step 2 – Click on 'Upload Document' (KYC Verification)
Step 3 - Select the document you wish to upload.
Step 4 – Upload the front and backside of the documents. (For Eg – Aadhar card)
Please find the below GIF for your reference.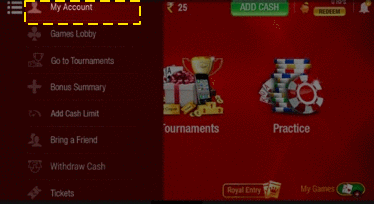 Note: The maximum size of the document that you will upload should not exceed 5 MB.